Special Drilling Operations Certificate Program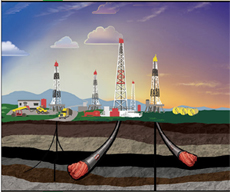 The Certificate Program is a self-study program designed to teach key terms and concepts that are relevant to rig personnel and drilling crews. Topics include well patterns, directional surveys, downhole complications, open-hole fishing, well kicks, and blowout prevention techniques.

When you purchase this program, you receive Special Drilling Operations, 2nd ed. (in print or e-book) and an online assessment that can be taken as an open-book test at your own pace. The assessment is made up of 250 questions and takes approximately 6 hours to complete after reading the book. If a passing score of 70% is not achieved, you may retake the assessment at no additional cost. Successful completion earns a Completion Certificate from The University of Texas at Austin–PETEX and 3.0 CEUs.
Important Note: Hiring and promotions are a matter of judgment, and any written test can only be a small part of the candidate evaluation process. PETEX does not recommend that a PETEX assessment be used as the only criterion to evaluate a person's knowledge or skills.
For multiple licenses or to use the material in training, please contact us at 800.687.4132 or 512.471.5940 or by sending an email to info@petex.utexas.edu.
Distance Learning Certificate Programs FAQ
| Catalog # | Assessment Access | Book Format | Price | |
| --- | --- | --- | --- | --- |
| 2.01320AP | 12 Months | Print | $260.00 | |
| 2.01320AE | 12 Months | E-Book | $244.00 | |